stars flutter into dust
New Members: Beatrix, hello and welcome! ヾ(✿❛◡❛)ノ))。₀: *゜
Level Ups: ( 1 – 2 ) Lex, Rae, Vanja, Wing
Masteries: Chiisai ( blazingguardian, urbanexorcists )
Game Updates: Weekly
Affiliates: Nothing beats a PHP TCG in terms of easy updates and nothing beats a food TCG in making your mouth water -omnomnom-
New Decks: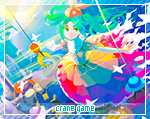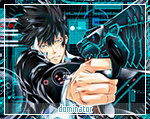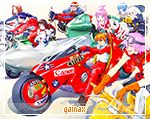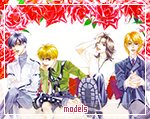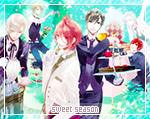 Click here for the update freebies. Please comment on this post with what you have taken. Thank you!
Remember you may only take freebies from updates that were posted on the day you joined and onwards.
⌜ Carrot Says "Sorry I Distracted Jannet This Week" ⌟
Not too much going on this week behind the scenes because my brother's dog is very distracting. She's just too cute and cuddly ~

Thankfully the heat wave has passed and I'm finally back on my desktop computer and have access to Photoshop again, so look forward to a few new upcoming decks next week.
We also have a lovely new badge set donated by Koshiba

Thank you ♥
And I think that's it for this week ~ Another short and sweet mini-update C: ( I feel like I'm forgetting something … ) Till next time

Thank you for the update! She looks like a sweet dog.

Update Freebies ( 11 June 2016 ): ( New Decks ) pharaoh11, pharaoh13, gainax05, dominator09 Amber on 11 Jun 2016 | 05:49 pm
Aw, what an adorable doggie. Huskies are my favorite breed.

New Decks: models16, models05, gainax12, sweetseason14

Thanks! Koshiba on 11 Jun 2016 | 06:19 pm
Cute dog!

Update Freebies ( 11 June 2016 ):
New Decks: gainax01, gainax09, models02, pharaoh08 Rosenel on 11 Jun 2016 | 06:51 pm
CARROT, that is precious. What a cute dog.

Update Freebies ( 11 June 2016 ):
New Decks: cranegame08, gainax04, gainax10, models13

Thank you for the update! Lee on 11 Jun 2016 | 07:41 pm
Update Freebies ( 11 June 2016 ):
New Decks: models09, models06, sweetseason13, pharaoh07 Hotaru on 11 Jun 2016 | 08:53 pm
Update Freebies ( 11 June 2016 ):
New Decks: gainax08, gainax09, models04, cranegame09

Thank you for the update and the cute picture of Carrot. Kearin on 12 Jun 2016 | 07:28 am
Update Freebies ( 11 June 2016 ):
New Decks: cranegame07, cranegame08, gainax09, pharaoh18 Maron on 12 Jun 2016 | 08:30 am
New Decks: dominator09, dominator06, sweetseason15, gainax01

thanks! Vanja on 12 Jun 2016 | 08:59 am
Update Freebies ( 11 June 2016 ):
New Decks: dominator07, dominator13, pharaoh04, pharaoh17 Adelicya on 12 Jun 2016 | 11:55 am
That is the CUTEST name! What a precious little baby!

Update Freebies ( 11 June 2016 ):
New Decks: pharaoh08, pharaoh13, sweetseason07, sweetseason08

Thank you! Chiisai on 12 Jun 2016 | 10:41 pm
such a cute dog! she's lovely!

Update Freebies ( 11 June 2016 ):
New Decks: sweetseason01, sweetseason02, cranegame08, cranegame13 Eon on 13 Jun 2016 | 05:06 am
Update Freebies ( 11 June 2016 ):
New Decks: gainax05, gainax13, models06, models19 Cate on 13 Jun 2016 | 07:52 am
Awwww such a cute doggie

Update Freebies ( 11 June 2016 ):
New Decks: dominator07, dominator08, sweetseason08, sweetseason10
Thank you! Wing on 13 Jun 2016 | 09:02 am
new decks: cranegame03, cranegame04, sweetseason03, sweetseason04

WHAT A CUTE DOG so fluffy... so precious moe on 13 Jun 2016 | 11:54 pm
Update Freebies ( 11 June 2016 ):
New Decks: dominator07, dominator18, sweetseason02, sweetseason10

AAA HER NAME IS CARROT THAT IS SO CUTE Mirai on 14 Jun 2016 | 08:55 am
Taking Update Freebies ( 11 June 2016 ):
New Decks: dominator13, gainax10, models06, pharaoh08
thanks Mina on 14 Jun 2016 | 06:04 pm
Update Freebies ( 11 June 2016 ):
New Decks: dominator07, dominator13, pharaoh08, pharaoh18

Thanl You ^^ Kristi on 14 Jun 2016 | 10:07 pm
aww what a cute puppy thanks for the update!

Update Freebies ( 11 June 2016 ):
New Decks: cranegame02, models07, pharaoh12, sweetseason11 Lex on 15 Jun 2016 | 12:45 am
Update Freebies ( 11 June 2016 ):
New Decks: models01, models02, sweetseason03, cranegame04

Thank you! Echo on 15 Jun 2016 | 09:03 am
Thanks for the update~~ your brothers pup looks so precious

Update Freebies ( 11 June 2016 ):
New Decks: sweetseason08, cranegame03, cranegame08, gainax09 Muffy on 15 Jun 2016 | 01:51 pm
omg carrot is a cute name for a dog

Update Freebies ( 11 June 2016 ): ( New Decks ) cranegame05, cranegame06, sweetseason05, sweetseason06 Dina on 16 Jun 2016 | 09:33 am
Such a cute doggy! Thanks for the update!

Update Freebies ( 11 June 2016 ):
New Decks: gainax09, gainax05, cranegame10, sweetseason10 Renako on 16 Jun 2016 | 04:21 pm
Taking cranegame03, cranegame08, pharaoh01, pharaoh02. Thanks. Mandyrobin on 17 Jun 2016 | 09:45 am
Took cranegame18, models18, pharaoh18, sweetseason18, thanks! Dite on 17 Jun 2016 | 10:52 am
Carrot is adorable, aaaw

Update Freebies ( 11 June 2016 ):
New Decks: cranegame11, gainax03, sweetseason09, cranegame15

Thank you! Kairi on 17 Jun 2016 | 06:03 pm
WHAT A CUTE DOG!!!!! i can totally understand being distracted by a dog because i would too... but thank you for the update, no matter how short it is!

Update Freebies ( 11 June 2016 ):
New Decks: sweetseason02, sweetseason10, models06, models11 Cassidy on 17 Jun 2016 | 10:59 pm
New Decks: dominator05, dominator17, gainax13, pharaoh07 Mysti on 18 Jun 2016 | 02:09 pm
New Decks: cranegame08, dominator08, gainax08, models08 Megumi on 20 Jun 2016 | 06:37 pm
New Decks: dominator15, dominator20, pharaoh15, sweetseason07

Thank you! Ets on 25 Jun 2016 | 02:23 pm
New Decks: dominator07, dominator12, sweetseason08, sweetseason07 Cami on 26 Jun 2016 | 11:48 am